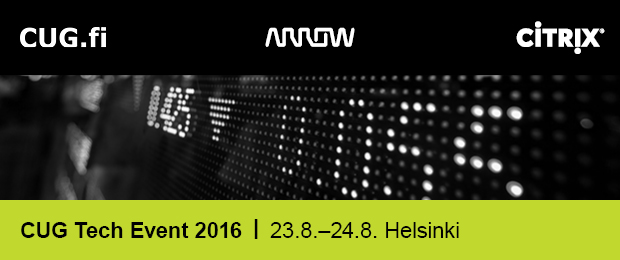 Coming in August: The biggest and most international Citrix event ever in Finland!
You are most welcome to join us in CUG Tech Event 2016 at Helsinki Hotel Rantapuisto by the Baltic sea the 23-24th. of August.
This technology event is hosted by Citrix User Group Finland, Arrow ECS Finland & Citrix Systems Finland.
Two whole days of pure and plane Tech Talk, provided by the most interesting speakers and top experts handpicked all over Europe and flown to Helsinki just to help you to find your path through the matrix while networking with the these princes of technology.
In the evening after day 1 official agenda, there is a great chance to network and enjoy music provided by Citrix CTO DJ, or try to survive the original Finnish sauna (full of Finns).
And that's not all; during the Event you can find the most intriguing solutions in our Solution Expo area provided by our cherished sponsors; the most distinguish tech providers in the market today!
The full Event agenda can be found here, and it's been updated regularly.
Welcome, we are waiting for you to sign in.
Let's meet in Helsinki August the 23.-24th!